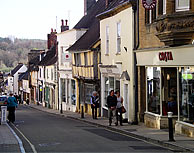 How I work
As I'm sure you are aware, there are many different types of therapy.
What research has shown is that what is most important is not the model of therapy, but the quality of the relationship between the therapist and the client.
My aim is to help create a safe environment in which you can have the space to explore and accept
who you really are
.
Experience has shown me that
supporting people over a considerable period of time
can bring lasting change.
Short term therapy, over a few months, can initiate beneficial change.